Australians expect judges to make decisions impartially, that is, free from a range of inappropriate and unacceptable political, financial and personal influences. Not only must they make decisions with impartiality, but they must be seen make their decisions impartially.
However, as the cases before the courts continuously show, judges can make mistakes. Even when judges are not at fault, developments in behavioral psychology tell us that bias and interference can get in the way of good decisions.
Today's publication from the Australian Law Reform Commission judicial impartiality report in federal courts is a much-needed examination of how the entire justice system supports judges in dispensing justice impartially. His recommendations would change the way judges are appointed, monitor judicial diversity, unlock the transformative potential of judicial training, and create an independent avenue for dealing with complaints against the federal judiciary.
If the government and the courts act on these recommendations, major changes would be made to the federal justice system.
---
Read more: Australia urgently needs an independent body to hold powerful judges to account


---
Why be interested in judicial impartiality?
The report stemmed from concerns by then-Attorney General Christian Porter that there might be a misunderstanding of the bias test among the judiciary, the legal profession and the public. Porter's concern was born from a Western Australian family law case involving a judge who refused to resign after it was revealed he had been drinking coffee, talking on the phone and texting a senior lawyer involved in a case he was deciding.
A majority of the Full Family Court agreed with him that there was no apparent issue of bias. But the Supreme Court unanimously found apparent bias and ordered that the matter be retried.
How could so many top federal judges get the law wrong?
The Test and Procedure for Judicial Bias
Was there a problem with the test, which requires the judge to take the perspective of an ordinary, informed member of the public in relation to his or her own situation? No, according to the commission. But there is still work to be done in developing and revising guidelines for judges and the public to create better clarity and understanding of the principles and processes involved.
The commission also recommended changes to the treat where judges must determine their own bias. The idea is difficult for the public to accept. It also cuts against the results behavioral psychology, which raises questions about the ability of judges to assess their own bias from the perspective of a third party.
The need for broader reform
These are all important reforms. But the commission goes further and makes a number of recommendations which, if adopted, would transform the judicial system as an institution by elevating the values ​​of impartiality, representativeness, accountability and transparency. This would allow Australia to conform to international standards and trends.
Judicial appointments
The commission recommends that the Australian government develop a more transparent process for judicial appointments. This would involve the publication of nomination criteria, public calls for expressions of interest and a commitment to promote diversity in the judiciary.
This recommendation reflects the need for a transparent system to minimize the perception that appointments are political. It also addresses the need for excellent legal minds on the bench who are informed by a diversity of backgrounds and life experiences. This would expose and reduce social and cultural biases at the institutional level.
The current system of appointments, which amounts to an opaque "choice of captain" by the government of the day, is being increasingly abandoned internationally. Simply put, it is unable to achieve these goals.
An independent commission to deal with complaints
The commission also recommends that the Australian government establish a federal judicial commission. This would provide an independent body to receive and deal with complaints against judges, including complaints of bias.
The creation of an independent federal judicial commission to deal with complaints and discipline is long overdue. We are seeing movement in this direction internationally, as well as in Australian states and territories.
The absence of such a body would not be tolerated in any other workplace in Australia. Indeed, we have recently seen the Australian Human Rights Commission recommend the creation of something similar for the federal Parliament.
Yes, it should be established carefully, with due respect for judicial independence and the separation of powers. But its creation would promote judicial impartiality and public confidence in the independence and integrity of the courts.
There is ample evidence that while most judicial officers perform their duties with the utmost integrity, they are not above human error and misconduct. Yet there is no effective mechanism to deal with bad behavior, which is sometimes very serious.
An independent commission would provide a means of dealing fairly with complaints for both the complainant and the judicial officer. A transparent, independent and proportionate response could then be determined.
---
Read more: No selection criteria, no transparency. Australia must reform the way it appoints judges


---
The Law Reform Commission recognizes that this is a significant reform and therefore recommends further consultation before its implementation. But it was seen as crucial by key stakeholders including the Australian Bar Association and the Law Council of Australia.
The horizon looks bright for this reform: Attorney General Mark Dreyfus has indicated he intends to introduce a commission to investigate allegations of judicial misconduct after the government introduced its federal integrity commission.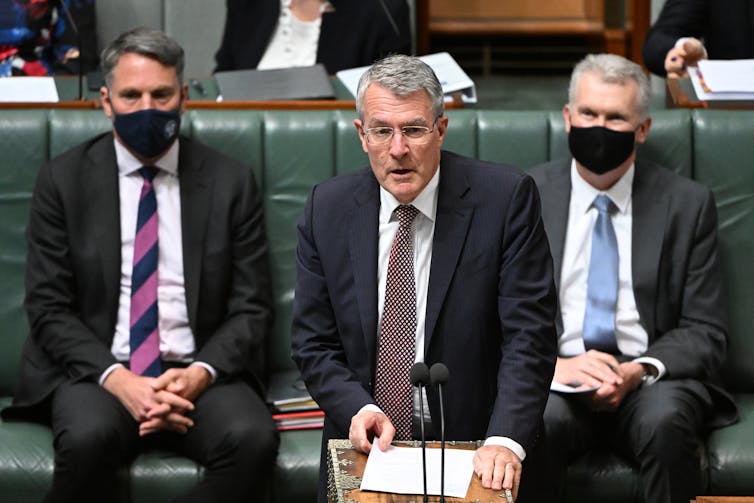 Training and support for judges
Finally, the commission recommends greater structure and transparency within the courts regarding how judges receive continuing education. There is currently an (i.e. unenforceable) expectation that judges will undergo five days of education and training upon appointment, and then an additional five days each year. Of course, judicial training is important to ensure that judges stay current on substantive law – including the law and process relating to impartiality.
But judicial training can have a deeper and more transformative role. Well-designed training programs can aim to expose cognitive biases in judicial decision-making. The shortcuts and stereotypes that judges (like all of us) use can lead to gendered and racialized results.
Training can also equip judges with the tools to handle the very demanding work they do.
It is therefore not surprising that the commission identifies essential subjects for the training of judges such as:
Emotional awareness and management of emotions
trauma-informed approaches
cultural competence
cultural humility and understanding of diversity
reflective practice
mental health and wellness
critical reflection on social and cultural prejudices.
A separate recommendation explicitly calls for a structured and ongoing program of intercultural Aboriginal and Torres Strait Islander education for members of the judiciary. This would be led by Aboriginal and Torres Strait Islander peoples and organizations.
A recent report for the Australasian Institute of Judicial Administration in which I attended reveals that the provision and uptake of judicial training at the moment is, shall we say, hit or miss.
What we do know is that most education is focused on substantive law training by judges for judges. The commission's recommendations, if adopted, offer a means for judicial education and training to provide a platform that supports — and potentially transforms — judicial impartiality.